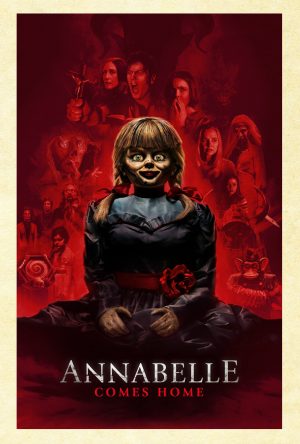 Annabelle Comes Home
R
|

116 min.
Georgetown Showtimes
= Enhanced Digital Experience
Plot
Determined to keep Annabelle from wreaking more havoc, demonologists Ed and Lorraine Warren bring the possessed doll to the locked artifacts room in their home, placing her "safely" behind ...
Starring
Madison Iseman, Vera Farmiga, Patrick Wilson, Mckenna Grace.
Age Policy
All R-Rated movies are intended for an older, adult audience.
Moviegoers under 17 must be accompanied by a parent or adult guardian.
For any R-Rated movie, children under the age of 6 will not be admitted after 6PM in an effort to create a more appealing atmosphere for our adult audiences.
Adult guardians are:
21 years of age (Id required) or more.
Required to attend the entire movie with the child.
Authorized by a parent to bring the child to an R-rated feature.
Ticket Prices
| | |
| --- | --- |
| Adult (weekend): | $12.00 |
| Adult (week day): | $11.25 |
| Student / Military (with ID): | $7.50 |
| Matinee (before 6 PM): | $6.00 |
| Senior (60+): | $7.50 |
| Child ( ages 3-11): | $6.50 |
| Tuesday Family Night (after 6 pm, excludes new releases): | $5.25 |
| Senior Monday (60+, All Day Monday): | $6.50 |
| 3D Upcharge: | $2.50 |